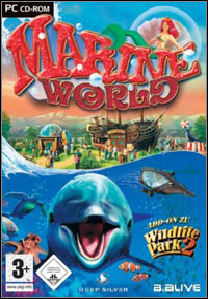 Marine World is the second expansion pack for Wildlife Park 2. It focuses on marine life and features more than 20 new animals, which includes the Humpback whale and the rare Frilled Shark. This was the only expasion pack to go with Wildlife Zoo as Wildlife Zoo: Deluxe. If installed the game then changes the original menu screen with a kelp forest which includes shoals of fish swimming by.
Marine World has more than 20 marine animals which includes species of sharks, dolphins, and fish.
Some new animal species are:
Beluga whale
Tuna
Blacktip reef shark
Whitetip reef shark
Marlin
Gilthead seabream
Dugong
Sawfish
Bicolor parrotfish
Common Dolphinfish (Mahi-Mahi)
Zebra moray
Dragon eel
Humphead wrasse
Pacific white-sided dolphin
Giant grouper
Whale shark
Ad blocker interference detected!
Wikia is a free-to-use site that makes money from advertising. We have a modified experience for viewers using ad blockers

Wikia is not accessible if you've made further modifications. Remove the custom ad blocker rule(s) and the page will load as expected.