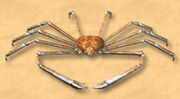 The Japanese spider crab is a marine invertebrate. This means it has a exoskeleton (an outer skeleton) but not a spine. (backbone) It is optional to the Wildlife Park 2:Crazy Zoo you were in. You do not have to add it to your zoo. These animals lay .15 million eggs in one breeding. They eat algae, deep sea fish, mollusks, and plants. They use their long front legs to grab their food/prey. Invertebrates make up 95% of the animal life on earth. Sadly, Japanese spider crabs are being hunted. they are used for food. this is making it harder and harder to find the animals. I guess you could say the at they are endangered, meaning they are at very high risk of becoming extinct.
Ad blocker interference detected!
Wikia is a free-to-use site that makes money from advertising. We have a modified experience for viewers using ad blockers

Wikia is not accessible if you've made further modifications. Remove the custom ad blocker rule(s) and the page will load as expected.