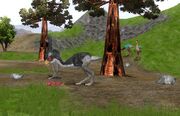 the gastornis (also known as diatryma) was a prehistoric giant bird that lived during the paleocene and early eocene the only time on earth were birds ruled the world and fossils have been found in north america and europe. it was likeley carnivorous and hunted early cat sized horses. it
is a adoptable creature from Wildlife park 2 and come in many different variants.
Wildlife Park 2 Edit
Required Genes: 700
Cost: 500000
Attractiveness: 6 Stars
Water: 1 l/day
Meat: 3 kg/day
Movement Edit
Run: 2 hours/day
Jump: 2 hours/day
Environment Edit
Lowland
Hardness of Ground: 50 to 70
Temperature: -10°C to 3°C
Social Matters Edit
Maximum Age: 15 Years
Sexual Maturity: 5 Years
Size of Herd: 2-10
Offspring: 1 to 3
Gestation Time: 1 Month
Ad blocker interference detected!
Wikia is a free-to-use site that makes money from advertising. We have a modified experience for viewers using ad blockers

Wikia is not accessible if you've made further modifications. Remove the custom ad blocker rule(s) and the page will load as expected.